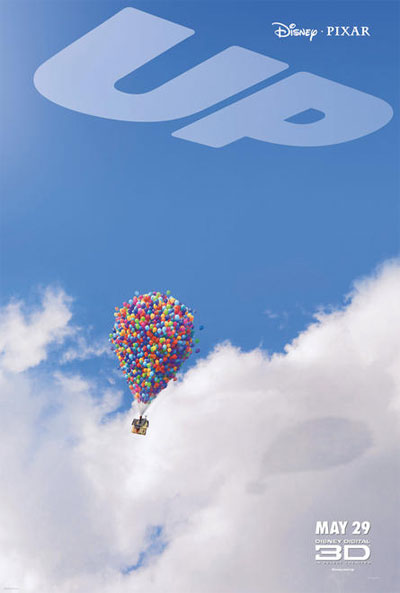 After watching and marveling at yet another superb Pixar film -- this time, UP -- and following that up with a few related articles and interviews (including the Fresh Air interview with Pete Docter, which I highly recommend; as with Brad Bird, when Ratatouille came out, Pixar directors tend to be charming and likable interview subjects), a thought occurred to me.
Pixar seems the very model for how a "small" film studio should operate, creatively, organically, spiritually. And the results show. With the possible exception of Cars (which was still a huge hit and certainly charms several toddlers I know), their output has been consistently successful artistically as well as financially.
I've known a couple of people who have worked at Pixar's HQ over the years and they were constantly talking about how wonderful it was (to the point where the rest of us were either politely envious or nauseated). I also have heard, from Docter and other Pixar creative minds, about their collaborative process, and the ways they nuture creativity, work to concoct the best story ideas, plots and characters -- with the details done just right.  (i.e., the "Up" crew took a trip to South America to look at landscapes similar to the ones they had in mind for the film, to sketch them, to come up with new ideas for backgrounds and even scenes.) 
Things like that create not only the best possible work environment for employee mood and loyalty but a good environment for storytelling, too.
They hire the most creative people, with multiple talents (dig the number of times they've used an animator or director as a key voice in a film).  And they've built a system that leads to continually good films.
Where am I going with this?
Well, not exactly back to the studio system of yore, where actors were owned by studios and people's happiness level wasn't always super high. (They'd never return to that kind of system even if it made sense.) But there is something to the Pixar model.
Most other big studios today are owned by bigger conglomerates (and to be fair, Pixar's under Disney, though Disney has smartly not mussed with what works), and tied into a spiderweb of other properties, so it's hard to imagine any of them going in that direction.  But smaller studios, perhaps at the size that Pixar once was, should be looking to copy their way of being.  Comedies and animated films seem in particular need of having a collaborative team behind them, but other types of films could benefit from that as well.
There are other pockets of small production companies that have sort of gone this way. Could think of Judd Apatow's Apatow Productions and his almost Preston Sturges-like stable of players, each now doing their own projects and using each other as actors and writers and so on. There's a danger in a certain sameness and formula in those films (some would argue they've already reached it), but they also seem a happy lot, willing to push the comedy envelope at times.
So who else will follow the Pixar model?  Or if no one else is, why not? 
Is Pixar's success just lightning in a bottle, or possible to duplicate, for the better of Hollywood/American film?